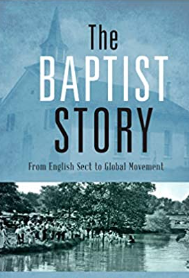 Taught by: Wyman Richardson
Cost: $26.80 on Amazon (Kindle: $15.74)
Textbook/Materials Disclaimer: If you are unable or uncomfortable ordering your own material online, please see a member of the staff for assistance. If you cannot afford the book or material, please see a staff person. We certainly never want anyone to not be able to take a course because of cost.
Description:
The Baptist Story is a narrative history spanning over four centuries of a diverse group of people living among distinct cultures on separate continents while finding their identity in Christ and expressing their faith as Baptists. Baptist historians Anthony Chute, Nathan Finn, and Michael Haykin highlight the Baptist transition from a despised sect to a movement of global influence. Each chapter includes stories of people who made this history so fascinating.