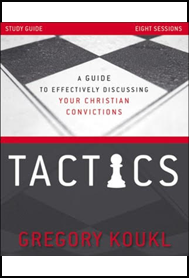 Taught by: Thomas Sewell
Cost: $14.99 on Amazon
Textbook/Materials Disclaimer: If you are unable or uncomfortable ordering your own material online, please see a member of the staff for assistance. If you cannot afford the book or material, please see a staff person. We certainly never want anyone to not be able to take a course because of cost.
In a culture increasingly indifferent or even hostile to Christian truth, followers of Christ need to be equipped to communicate with those who do not speak their language or accept their source of authority.
Based on the strategies described in the classic book of Christian apologetics, the Tactics Study Guide will take small groups deeper into how to artfully communicate the truths of Christianity and keep conversations moving forward in constructive ways.