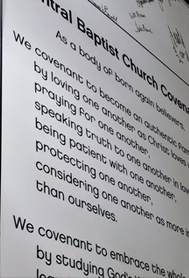 Taught by: Wyman Richardson
Description:
"Central Matters B: Covenant" is the follow-up core requirement to "Central Matters A: Canon." "Covenant" takes a detailed look at and walk through the Central Baptist Church covenant which is itself framed around our four canons: (1) Authentic Family, (2) Around the Whole Gospel, (3) For the Glory of God, and (4) And the Reaching of the Nations. Our four canons articulate our vision of who we want to be as a New Testament church. Our covenant articulates what we think, practically, this will look like in our day to day lives.
In this class you will listen to two sermons per week in which Pastor Wyman preaches through the church covenant. You will then answer questions for each sermon. You will listen to 26 sermons over 13 weeks. When you are done, you will have worked carefully through each line of the Central Baptist covenant and will be equipped to understand the full richness of our canons.