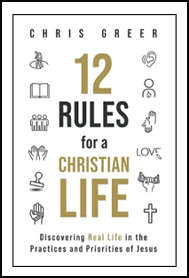 Taught by: Chris Greer
Cost: $12.99 on Amazon. Can also be purchased in person for the same price at the first meeting.
Textbook/Materials Disclaimer: If you are unable or uncomfortable ordering your own material online, please see a member of the staff for assistance. If you cannot afford the book or material, please see a staff person. We certainly never want anyone to not be able to take a course because of cost.
Description:
The people of Central Baptist Church are committed to becoming an authentic family, around the whole gospel, for the glory of God, and the reaching of the nations. These four "Canons" represent the way of Jesus, God's mission for the Church, and the heartbeat of CentralU. 
But how do you engage personally? How do we connect deeply with God so we can live out his call and become the people he created us to become?  That's what this CentralU class—and the book, 12 Rules for a Christian Life—is all about. 
Join us to explore the practices and priorities that shaped Jesus' life and will transform yours. Grab your spot now for this 9-week Central U experience, led by the book's author, Chris Greer.  Weekly exercises for Certificate Students (See Certificate Requirements in right-hand column).
Who is Chris Greer?
Chris is a devoted follower of Jesus, husband to Kerry, and father to Jacob (7) and Emma (5), and a member of CBC. He works as an author, retreat leader, and speaker. And his hope — in all of life, as well as for this Central U class — is to help anyone and everyone hear, understand, and experience God so they can live their real lives. 
Certificate Requirements:
Certificate track students will complete the assigned reading and weekly reflection questions.