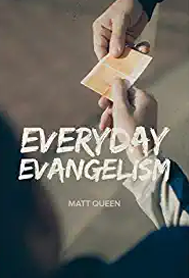 Cost: $4.99 on Seminary Hill Press
Textbook/Materials Disclaimer: If you are unable or uncomfortable ordering your own material online, please see a member of the staff for assistance. If you cannot afford the book or material, please see a staff person. We certainly never want anyone to not be able to take a course because of cost.
Note: Audit students are not required to read the book to take this online course. Also, note that the CBC Book Cart often carries Dr. Queen's book, so be sure to check there first! If it is not on the Book Cart you will need to order the book.
Description
Evangelism 101 is a helpful and insightful introduction to the Christian privilege of evangelism. This course will not teach you an outline to memorize or a script to recite. Rather, it will teach you the basic principles of sharing your faith. It will present to you the principle that if you know enough of the gospel to the be saved by it you know enough of the gospel to share it. In this class, you will read Dr. Matt Queen's book, Everyday Evangelism, as well as watch videos of his presentations at Central Baptist Church from March 2002. You will answer questions related to each video.